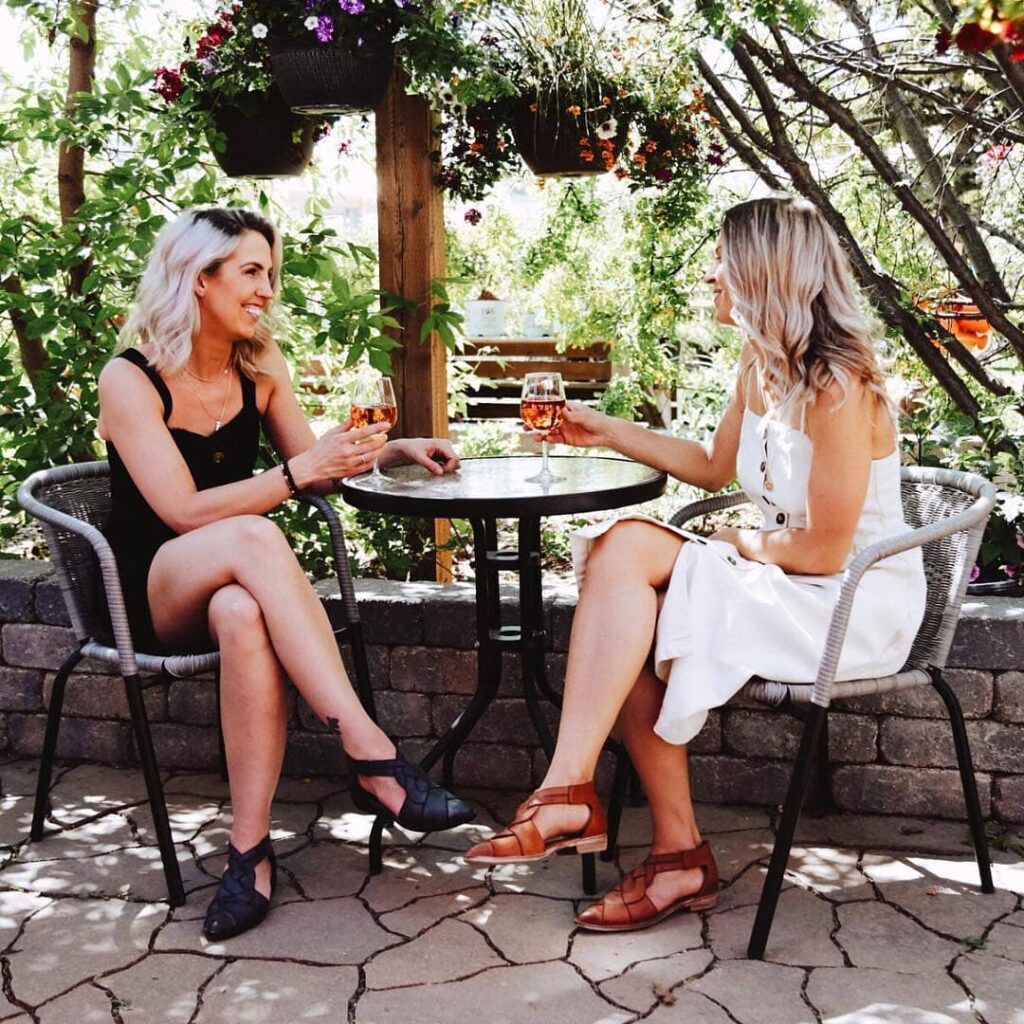 A local favourite, Timber Café is a cozy coffee shop nestled in a quiet corner inside Home Hardware Building Centre Lloydminster with seating that expands outdoors into a gorgeous patio.
Timber Café offers far more than just coffee in all its forms. With breakfast options, daily lunch specials, seasonal specialty beverages, Foothills Creamery ice cream, and even wine, beer, & cocktails, you can look forward to a relaxing and uniquely delicious experience whether you stay in or take out*.
* Alcoholic beverages are not available for takeout
"Delicious food + clean and cozy atmosphere. Staff are nice and I love the location too. The Home Hardware is so cool. 10/10 all around. Best iced caramel macchiato in Lloyd too!"

-Tariya (Google Review)
"The place has magic, it makes you feel at home 😍"

-Alicia (Google Review)
"Awesome soup and sandwiches!!! Beautiful outdoor seating area. And, yes it's located inside Home Hardware."

-JW (Google Review)
Beverages
We offer all of your café favourites such as:
Espresso
Cappuccino
Lattes
Americano
Mochas
Caramel Macchiato
London Fog (the best in town!)
Chai Latte
Hot Chocolate
Steamer
Selection of Specialty Teas (Black, Green, White, Herbal)
Italian Sodas
Seasonal Specialty Drinks
In the winter, enjoy a light lunch or hot apple cider by the fire with friends. In the summer you can relax in air-conditioned comfort or outside on our lovely garden patio with a tasty Italian Soda or Iced London Fog. Our café staff are more than willing to personalize your beverage to your liking or suggest something new to try if you are in an adventurous mood.
We also offer a variety of elixers and specialty beverages, such as:
Golden Milk
Detox Tea
Honey Lemon and Ginger
and more!
Breakfast
We now serve breakfast items from 8 AM to 11 AM! Our food items include:
Rustic Frittata – A baked omelet featuring potatoes, peppers, green onions, arugula, bacon & cheddar
Baked French Toast – Light & fluffy with hints of citrus, topped with banana and caramel sauce
Breakfast Sandwich – A cheese omelette with bacon on a fresh croissant
Pancakes with Fruit – Two fluffy pancakes stacked with seasonal fruits served with maple syrup
Prairie Porridge – This cool, creamy breakfast celebrates the bounty of the prairies; oats, chia, hemp, & buckwheat with a touch of honey, coconut milk & raspberries
We also serve the following breakfast drinks:
Bulletproof™ Coffee – Blend of Upgraded Coffee™, Brain Octane™ Oil, and unsalted New Zealand butter. Tastes amazing, and it makes you feel energized, focused, and full for hours!
Green Smoothie – A green smoothie packed with goodness from spinach, banana, avocado, mango & coconut milk is a great way to start your day!
Lunch Specials
Timber Café offers a unique weekly menu with a daily special meal and soup. The menu changes weekly so there is always something new to try!
We have a great selection of grab-and-go items including sandwiches, salads, homemade cookies, bars, cakes, and more.
We are proud to offer gluten-friendly and dairy-friendly treats–please ask Café staff for details.
We love #local! We use Lower Shannon Farms farm fresh eggs, and well as many of their other locally grown produce such as lettuce and herbs.
We also offer locally made take-home products such as Spiro's Secret Sauce and Greek Dressing, Lake Life Lloyd Caeser mix & rimmer, and So Elderberry Good elderberry syrup.
Ice Cream
We exclusively offer Alberta-made Foothills Creamery™ ice creams and sorbets!
Sundaes, floats, affagatos and other ice cream treats are also available.
Spirits, Wine, & Beer
(18+ Only)
Yes, Timber Café serves alcohol! Now you can enjoy wine or beer with your meal, or enjoy a specialty beverage with friends! As a licensed liquor merchant, we offer:
Red, White, and Rosé wines
Ribstone Creek™ Beer
Baileys and select spirits
Seasonal specials
Call It In!
LOVE our baked goods? You can order large batches for your workplace or special event! Please call 780-875-7843 ext. 1. As everything is homemade, we do require notice in advance.
Want to pre-order lunch for pick-up for your office or workplace? Give us a call and we can put your order together for you so it's ready when you are. Some of the hot lunch specials are timed specifically to the lunch hour and require longer baking or prep times, so give us a call first thing in the morning and we can try to accommodate you.
Allergies and Dietary Concerns
Please note that Timber Café is not an allergen-free kitchen. Allergens including the top eight are used in our kitchen and cross contamination is possible, so please make the choice that is best for you.
If you have questions about ingredients or modifying something, please speak with the staff who will do their best to help you out!
Although Timber Café is not an allergen-free kitchen, we are able to adapt many of our dishes to exclude allergen ingredients (such as prepare a salad without almonds, or provide gluten free soy sauce) and some of our options do not contain allergen ingredients (for example, the Buddha Bowl is free of ingredients containing gluten, grain, dairy, soy, nut and sugar.)
We also regularly have a variety of "friendly" items –these items that are not designated allergen-free but rather do not contain certain allergen ingredients. These items are available as a choice, but are not certified to be allergen-free and those with severe allergies should, as always, follow the advice of their allergist when consuming these items.
Options include gluten and/or dairy friendly lunch items such as soups, salads, beverages and desserts and gluten free bread or ice cream cones are available by request. We offer at least one flavour of dairy and nut free sorbet, but again please note the possibility of cross contamination between ice cream flavours.
In addition to whole, skim and lactose-free milk we also offer coconut and almond milk.
Got an Idea?
The café crew loves making up new things. If you have a favourite dish you'd like to see us offer, let us know!
We can also make ANY KIND OF ESPRESSO DRINK you can imagine! Want to try something new or invent your own drink? We can make it for you. Had something somewhere else you loved? Let us know and we will whip something up for you. Had a "Drink of the Month" a few months ago you are hooked on now (maybe the Mint Mocha from St Patrick's Day?) You can order it any time of year. As long as we have the syrup flavors in stock, you're good to go. Who says you can't have a Snowball in July?